Rig with your mouse
Grabbing gear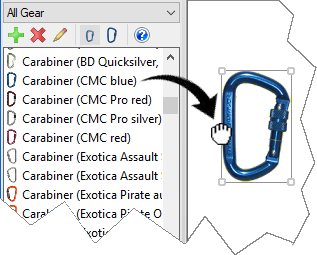 To add gear to your rigging system, you simply drag it from a gear pane and drop it on the screen.

Watch videos about adding gear to your system.
Drag-and-drop

When you drop gear on other gear, the items automatically connect. Sound effects add an auditory experience to your virtual workspace.

Learn more about connecting gear.
Flexible rope and webbing
You can use your mouse to grab any point on a rope and then drop it on gear to "attach" them. When you rearrange gear, the rope automatically stays connected to the gear.


Watch a video about working with ropes and knots.

Undo/Redo
Don't worry about making mistakes—the Undo and Redo commands are only a click away.
Click-and-Pick
When you click your right mouse button on gear, a menu containing commands relevant to that item is displayed. After clicking on the gear, pick a command. It's that easy.